Emergency Products
Emergency Management System
Emergency Dispatch Service
Emergency Contact Service
Emergency Warning System

Emergency Applications
Fire Warning and Alert
Medical Alert Service
Crime Warning Alerts
Chemical / Biological
Earthquakes and Earthquake Warnings

Emergency Information
Tornado Warning
Tornado Alerts
Winter Storms
Severe Weather Warning Definitions
Emergency Communications Systems
Disaster Alert Systems
Mass Alert System
Winter Weather Terms
Emergency Response Systems
Predicting Floods
Emergency Phone Tree
EAS - Emergency Alert System


Disaster Alert Systems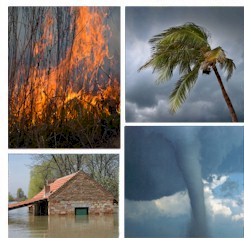 This section of our technical library presents articles written about Emergency Alert Systems and Disaster Recovery definitions, terms and related information.

The 911Broadcast emergency notification and alert service can deliver a large number of phone calls using a network of phone systems employing digital phone lines simultaneously. Should a disaster such as a snow storm, wild fire or flood hit your area, 911Broadcast systems can alert your community quickly providing specific instructions if an evacuation is required.

This service is available using our emergency broadcasting systems. If a dangerous chemical spill occurs in your community, you can target specific areas to call. If a severe snow storm hits your area, your community can be notified of school closings or event cancellations.

Contact DSC Today for a FREE analysis and quote and to learn more about our emergency notification systems and services.



<! *************************** Start Of Article *****************************>
WHAT IS A TORNADO?
From: Louisiana Governor's Office of Homeland Security article entitled "What To Do In Case Of A Tornado".
WHAT IS A TORNADO?
A tornado is defined as a violently rotating column of air extending from a thunderstorm to the ground. The most violent tornadoes are capable of tremendous destruction with wind speeds of 250 mph or more. Damage paths can be in excess of one mile wide and 50 miles long.
WHAT CAUSES TORNADOES?
Thunderstorms develop in warm, moist air in advance of eastward-moving cold fronts. These thunderstorms often produce large hail, strong winds and tornadoes. Tornadoes in the winter and early spring are associated with strong frontal systems that form in Texas and Oklahoma and move eastward toward Caddo-Bossier area. Occasionally, large outbreaks of tornadoes occur with this type of weather pattern. Several states may be affected by numerous severe thunderstorms and tornadoes.

During the spring in the South-Central States, thunderstorms frequently develop along a "dryline" which separates very warm, moist air to the east from hot, dry air to the west. Tornado-producing thunderstorms may form as the dryline moves east during the afternoon hours.

Along the front range of the Rocky Mountains, in the Texas Panhandle, and in the southern High Plains, thunderstorms frequently form as air near the ground flows "upslope" toward higher terrain. If other favorable conditions exist, these thunderstorms can produce tornadoes.

Small tornadoes can even accompany tropical storms and hurricanes that move over land. Tornadoes are most common to the right and ahead of the path of the storm center as it comes onshore.
FREQUENCY OF TORNADOES
Tornadoes can occur at any time of the year.

Tornadoes are most likely to occur between 3 and 9 p.m. but have been known to occur at all hours of the day or night.

The average tornado moves from southwest to northwest, but tornadoes have been known to move in any direction. The average forward speed is 30 mph, but may vary from nearly stationary to 70 mph.
WHAT TO LISTEN FOR
Tornado Watch: Tornadoes are possible in our area. Remain alert for approaching storms.
Tornado Warning: A tornado has been sighted or indicated by weather radar. If a tornado warning is issued for your area and the sky becomes threatening, move to your pre-designated place of safety.
Severe Thunderstorm Watch: Severe thunderstorms are possible in our area.
Severe Thunderstorm Warning: Severe thunderstorms are occurring.
Remember, tornadoes occasionally develop in areas in which a severe thunderstorm watch or warning is in effect. Remain alert to signs of an approaching tornado and seek shelter if threatening conditions exist.
WHO'S MOST AT RISK?
People in automobiles.


The elderly, very young and the physically or mentally impaired.


People in mobile homes.


People who may not understand the warning due to a language barrier.
<! ************ End Of Article ***************>


---
Tornados - Emergency Dialer for Tornado Warnings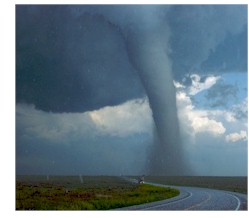 If a tornado should threaten your community, our emergency broadcast and warning service can contact your neighbors quickly. With our 911 emergency notification phone service, we can broadcast warning messages to thousands of households in your community warning of catastrophic disasters including tornados and high wind storms.

Emergency Alert messages can be simultaneously delivered in just minutes using our network of phone systems and services. Pre-recorded warning messages can be played giving households information regarding the tornado and storm location and whether a community evacuation is planned or necessary. We can send a broadcast warning to specific neighborhoods or communities in the event of a tornado and provide priority delivery of these messages to those households that are in the immediate path of these storms.

Contact DSC Today for a FREE analysis and quote and to learn more about our emergency notification phone services. <! ****************************END of Text************************************>