<! ****************** Main Text of Webpage ***********************************>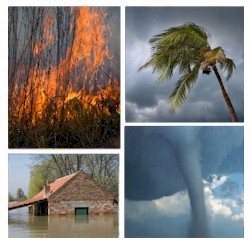 With technology from Database Systems Corp., you can broadcast alert and warning messages to hundreds of thousands of households warning of potential catastrophic disasters, including severe weather warnings. Businesses, organizations and emergency response teams can be notified quickly whenever a disaster hits an area. Pre-recorded warning messages can be played giving households travel warnings advising them where to seek shelter or providing other safety instructions. You can send a broadcast alert warning to specific neighborhoods or communities in the event of a wildfire or severe weather warnings. Community alarms can be directed to operators that are standing by to handle special individual emergencies. Messages can also be broadcast seeking volunteers or special assistance from emergency personnel. For more details on this emergency notification and alert broadcasting service, visit our Emergency Phone Dialer Network webpage.

Communities can be notified of other situations such as power or utility outages. Remote communities have used this technology to warn residents when the forest service planned a controlled burn, preventing a rash of 911 and emergency calls by concerned citizens. Other applications include warning residents when there is a toxic chemical spill or other dangerous environmental disaster.
Register Online For Emergency Alert Services
DSC now provides an online signup for both non-profit and business organizations wishing to use our emergency voice broadcasting outsourcing services. Signup is easy and free! Our competitive rates are affordable, even for the smallest calling campaign.

Use this form to obtain a quotation and pricing information with no obligation until you are ready to start calling and provide us with your payment information.

Both emergency and non-emergency voice broadcasting services can be provided by DSC.

To register online, click on the the online registration image or button on the right.

For a further description of this emergency notification dialer technology, visit our Emergency Phone Dialer web page.

Warning and Alert Applications
Utility Outages
Call For Volunteers
Information Hotline
Severe Weather Warnings

Hurricane Warning
Flood Warnings
Fire Alerts
Tornado Warnings

Hospital Warnings
Chemical Spills
Storm Warnings
School Closings
<! a HREF="" > Adams County Memorial Hospital
The Adams County Memorial Hospital is an 86 bed, acute care facility located in Decatur, Indiana. The hospital, which is county owned and operated, was dedicated as a memorial to the Veterans of World War I in July 1923. ACMH has been in continuous operation since its dedication. The hospital utilizes our voice broadcasting system with touch phone response to notify its employees and staff of emergency situations. When individuals are contacted, they are required to acknowledge the call through touch phone responses. If an answering machine is detected, a detailed message is left on the machine.


<! a HREF="" > AT&T Wireless Network Control Center
AT&T WNCC uses our voice broadcasting center with XML Push to notify internal personnel whenever a network outage occurs (i.e Routers, TDMAs, GSMs, and general cellular infrastructure). Personnel receive up to three different notifications - when a unit fails, an interim update, and when the unit returns to operation. A dynamic message is created (text to wav) by WNCC which identifies the specific region where the outage occurred along with a list of who to call.


<! a HREF="" > BASF Corporation
BASF Corporation is an international company that maintains business relationships with customers in more than 170 countries and supplies approximately 8,000 products from its five segments to a wide range of industries worldwide.

BASF utilizes the our emergency broadcast call center to notify its management team and employees in the event of a company or community emergency situation.


<! a HREF="" > Bayer Polymers
Bayer Material Science AG, a subsidiary or Bayer aspirin, is one of the world's largest producers of polymers and high-performance plastics. Bayer Polymers is currently utilizing Voice Broadcasting in order to notify all employees in case of an emergency as well as a reminder service for upcoming company events.


<! a HREF="" > Bronxville Public Schools
Bronxville Public Schools currently utilize emergency voice broadcasting to deliver urgent messages to school members and faculty. These messages provide information regarding school closings, severe weather, and emergencies.


<! a HREF="" > Columbus, OH - U.S. Post Office
The U.S. Post Offices in Columbus Ohio utilizes our emergency broadcasting services to contact postal employees in the event of an emergency. Emergency phone messages are sent to employees notifying them of a facility shutdown with specific instructions. Messages also are sent informing employees to contact their emergency center 800 number for specific information and instructions.


<! a HREF="" > Consumer Power Line
Consumer Power Line is a New York based company that helps clients reduce energy and operating costs. Consumer Power Line currently utilizes DSC's 911 emergency voice broadcasting to send emergency messages to company technicians. A real-time monitoring environment allows CPL to review call status.


<! a HREF="" > Crook County
Located in central Oregon, Crook County has an approximate population well over 16,000 people. Major cities such as Portland, Salem, Corvallis and Eugene are located within a three-hour radius of Crook County. Crook County currently utilizes Emergency Voice Broadcasting to contact city employees and citizens in case of an emergency.


<! a HREF="" > Episcopal Diocese Of Texas
Church customer that has an emergency response plan using our voice broadcasting system. The initial "call out" notifies all of the churches of a disaster or emergency.


<! a HREF="" > Parsons Infrastructure & Technology Group, Inc.
Voice broadcast messages to notify residents when forest service controlled burns are to take place. Calls indicate when resident should evacuate the area, where they can stay, etc.


<! a HREF="" > Potomac Schools
Voice broadcast messages to notify school members and faculty in the event of any emergency that may arise including school closings, severe weather, or catastrophes.


<! a HREF="" > Seattle Center
Seattle Center is one of the nation's most extraordinary urban parks and entertainment centers, with over 10 million visitors a year. Seattle Center utilizes DSC's Emergency Notification Services to broadcast important information concerning event servicing and operations. ENS allows the Seattle Center to contact over 60 key employees simultaneously in case of an emergency.


<! a HREF="" > Seven Hills Charter School
A charter school that emphasizes the use of time and technology, parental involvement, and character education in developing their children's future. Grades: K-8. Seven Hills utilizes our Emergency Voice Broadcasting system to call parents and faculty members for alert notifications.

<! End Of Applications Area >


Page [1] [2] [3] [4]
---
Technical Library Categories
---


<! ****************************END of Text************************************>