Emergency Products
Emergency Management System
Emergency Dispatch Service
Emergency Contact Service
Emergency Warning System

Emergency Applications
Fire Warning and Alert
Medical Alert Service
Crime Warning Alerts
Chemical / Biological
Earthquakes and Earthquake Warnings

Emergency Information
School Alerts


Disaster Alert Systems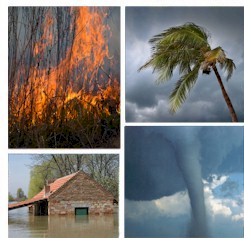 This section of our technical library presents articles written about Emergency Alert Systems and Disaster Recovery definitions, terms and related information.

The 911Broadcast emergency notification and alert service can deliver a large number of phone calls using a network of phone systems employing digital phone lines simultaneously. Should a disaster such as a snow storm, wild fire or flood hit your area, 911Broadcast systems can alert your community quickly providing specific instructions if an evacuation is required.

This service is available using our emergency broadcasting systems. If a dangerous chemical spill occurs in your community, you can target specific areas to call. If a severe snow storm hits your area, your community can be notified of school closings or event cancellations.



<! *************************** Start Of Article *****************************>
Satellite Global Disaster Alert System Planned
James Owen
for National Geographic News

Next month more than 50 nations will meet in Brussels, Belgium, to finalize plans to link up each country's environmental antennae—a fleet of orbiting satellites and other Earth observation technology.

The systems are currently used to estimate crop yields, detect earthquakes, forecast droughts, predict floods, and monitor air and water quality.

Linking the satellites and sensors would enable them to "talk to each other," allowing information to be shared across continents to warn of and respond to natural disasters.

Called the Global Earth Observation System of Systems (GEOSS), the program aims to pool all national and regional observation data within the next ten years. Once in place, information would be available instantaneously to all countries.

If such a network had already been in place, tens of thousands of lives lost during the Indian Ocean tsunami strikes on December 26 might have been saved.

While there was no tsunami alert system in place in the Indian Ocean, the Pacific Tsunami Warning Center in Hawaii detected the earthquake that triggered the deadly waves.

The center, operated by the United States National Oceanic and Atmosphere Administration (NOAA), has been criticized by some affected countries, including Thailand. They say more should have been done to raise the alarm.

NOAA officials counter that no proper system was in place for these countries to receive a warning in time to avert disaster.
Tsunami Detection
Earlier this month the Bush administration announced plans to expand tsunami detection and warning capabilities as part of the GEOSS program.

"This plan will enable enhanced monitoring, detection, warning and communications that will protect lives and property in the U.S. and a significant part of the world," announced John H. Marburger III, President Bush's science advisor.

"World attention has been focused on the vulnerability of those near the edge of oceans, and we have the responsibility to respond," Marburger added. NOAA will deploy 32 new Deep-ocean Assessment and Reporting of Tsunami (DART) buoys, extending coverage throughout the entire Pacific and Caribbean basins. DART buoys record sea surface heights, with data transmitted via satellites.

The draft plan for the U.S. component of GEOSS—the U.S. Integrated Earth Observation System—was published last September. The plan noted benefits of a global monitoring network, including improved weather forecasting and climate change predictions and better protection of water resources.

The report stated, for example, that weather- and climate-sensitive industries account for a third of U.S. gross domestic product (GDP), or 2.7 trillion dollars and that improved El Niño forecasts are worth up to 300 million dollars to the U.S. annually.

Satellites can help save lives and protect property from natural disasters, report authors noted. Geostationary Operational Environmental Satellites (GOES) are used to detect and monitor forest fires across the Western Hemisphere. The satellites are so sensitive that a blaze can be detected within 15 minutes of igniting. The report stated other satellites could be incorporated to extend fire-alert coverage globally.
European Role
The European component of GEOSS—Global Monitoring for Environment and Security (GMES)—is a joint initiative of the European Commission and the European Space Agency, based in Paris, France.

"As well as areas of environmental concern, such as marine pollution, GMES covers natural hazards to society—from land fires, earthquakes, and volcanic eruptions to avalanches, subsidence, and flooding," said Mike Grimmett, national program manager of the British National Space Centre in London.

"People who have their own observing systems, satellite missions, and processing capabilities will all share information," he added. "We need to get the whole world sharing good, valid data."

Grimmett said the Indian Ocean tragedy has highlighted the benefits of Earth observation systems in helping those affected by natural disasters.

A GMES project involved with the current tsunami relief effort is Respond. The Europe-wide initiative based in Leicester, England, provides humanitarian organizations with geographic information.

Grimmett said, "[Respond] provides access to maps, satellites images, and other geographic information for regions that are at risk. That can be slow-moving risk, such as desertification and famine. But it also includes reacting to a disaster situation and helping to plan and manage in the aftermath of such an event."

Grimmett said the information is published freely on the Respond Web site and that everyone can access it. He added, "It's an example of what will be a part of GEOSS." <! ************ End Of Article ***************>


---




Emergency Phone Dialers




DSC now offers an affordable and expandable emergency phone dialer and voice broadcasting (VB) analog phone system. This 4 line auto dialing system includes our voice message and broadcast Wizard software or comes optionally with our comprehensive software development toolkit. You can program your own system or we can provide you with a custom message broadcasting application. These applications can be easily ported to our digital T1 phone system (PACER) when your call volume requires a larger system.

This entry level system can be easily expanded by adding agent lines and software to support a small response center including inbound emergency call handling and normal outbound dialing. DSC provides voice broadcast software including our VB wizard development tool for creating custom phone applications. This wizard guides you through each step when defining your VB applications. Informational phone applications can be developed quickly. Simply record your phone prompts and fill in the blanks.







<! ****************************END of Text************************************>