Products
Community Alert System
Emergency Management System
Emergency Communications System
Emergency Dispatch Service
Emergency Contact Service
Emergency Warning System

Emergency Applications
Floods and Flood Warning System
Chemical / Biological
Earthquakes and Earthquake Warnings

Emergency Information
School Alerts

<! ****************** Main Text of Webpage ***********************************>


Emergency Notification Systems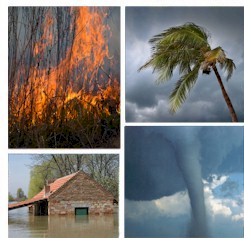 This section of our technical library presents articles written about Emergency Alert Systems and Disaster Recovery definitions, terms and related information.

The 911Broadcast emergency notification and alert service can deliver a large number of phone calls using a network of phone systems employing digital phone lines simultaneously. Should a disaster such as a snow storm, wild fire or flood hit your area, 911Broadcast systems can alert your community quickly providing specific instructions if an evacuation is required.

This service is available using our emergency broadcasting systems. If a dangerous chemical spill occurs in your community, you can target specific areas to call. If a severe snow storm hits your area, your community can be notified of school closings or event cancellations.



<! ************ Start Of Article *************>
911 Emergency Response: Dispatching Privatization
From Mackinac.org

Privatization has built a track record of lower costs and better quality for a number of commonplace government services including garbage collection, police car maintenance, school transportation, and food service in jails and schools. Now, local governments have begun to view a newer and more complex service, 911 emergency dispatch, as an area where privatization might also lead to lower costs and better service.

The technology that allows people to contact the nearest emergency service by dialing the same three digits from any phone is as much a part of modern life as are cable television, cellular phones, and e-mail. Although private cable television, wireless phone, and e-mail services offer consumers major improvements almost yearly, most communities still rely on 30-year-old technology for their government-operated emergency dispatch systems despite the fact that advanced technology and cost-saving efficiencies are readily available.

The original 911 technology is relatively simple. It routes calls from any phone to the correct location. For someone living in a city with one fire department and one police department, this may not seem like a technological breakthrough. But in a large urban area such as Detroit, with many rescue stations, a simple call from a pay phone will connect the caller with one of the many agencies that serve the immediate area.

Current technology allows phone operators to see the name, address, and phone number of the caller as well as the jurisdiction to be contacted, the proper radio frequency, a map to the site, verbal directions using local landmarks, and sometimes even tips on how to deal with a particular emergency.

Emergency dispatch includes a number of different component services, some of which lend themselves to privatization more easily than do the Public Safety Answering Points (PSAPs), the stations where 911 calls are actually answered. For example, private companies such as Rural/Metro provide emergency ambulance service to Knox County, Tennessee, as well as the cities of San Diego, California and Scottsdale, Arizona. Callers dialing 911 in those areas reach a local, government-operated PSAP which forwards the call to Rural/Metro with all the caller information. Some Michigan counties including Midland and Wexford also use private ambulance services to respond to 911 emergencies.

Northampton County in Pennsylvania may be the first county in the United States to privatize the phone answering component of its 911 service. Local officials decided to consolidate the county's 96 separate law enforcement, fire, and medical emergency services into one dispatch site that will handle all emergency calls from the local area. In order to accomplish this, the officials hired a private firm, MCI System House, to complete the work.

In Florida, the Wackenhut Corporation uses new 911 technology to centrally dispatch any one or more of its 1,500 emergency response team members-from Orlando south to Dade County. Computers track the number of emergencies each operator handles and show that, even after allowing for the great variety in emergency situations, operators are typically able to use this new technology to handle dramatically more emergency calls than before.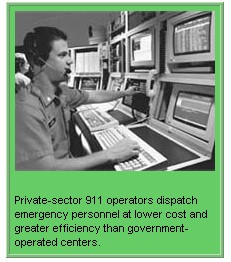 Prejudices against the wholesale privatization of an answering dispatch center are falling. Although politicians and bureaucrats in most locales have been slow to consider 911 privatization, men like Woody Glover, chairman of a 911 committee of the Association of Public Safety Communication Officials remembers how police officers felt that "no one knows how to dispatch unless they wear a badge and a gun." That attitude has changed, so why can't the view that 911 officers must be government employees change?

Today, civilian government employees are serving as dispatchers. Some communities have seen the wisdom of forming regional 911 centers and the federal government has been turning over emergency services to private companies, as done at the Savannah River nuclear site in Georgia where another private firm, Emergency Services Integrators, maintains the equipment and Wackenhut does the dispatching. And communities including St. Mary's County in Maryland are now accepting bids to privatize their PSAPs.

Government agencies are beginning to partner with private firms due to the increasing sophistication of systems that are complex to install and maintain. In such a scenario a private firm would be responsible for the equipment and government would be responsible for answering the phones. One of the pioneers in this sort of partnership was Lancaster County, Pennsylvania, which operates what is sometimes called a "semi-privatized" PSAP.

Years ago, private firms recognized that customer phone calls to place orders, lodge complaints, or request services could be better handled by professional call centers maintained by companies that specialize in that field. Politicians are now beginning to learn that the same principles can be applied to 911 emergency services.

The benefits are clear: more choices. Municipalities need not rely on a one-size- fits-all approach to managing their emergency systems. They may contract for the entire system (equipment and employees), just the equipment, or let private rescue teams such as Rural/Metro handle rescue operations for ambulance and fire while maintaining in-house phone staff. Governments involved in emergency services can concentrate on delivering life-saving services more efficiently and effectively by contracting with a private agency for any number of components of the total service.

<! ************ End Of Article ***************>


---


<! ****************************END of Text************************************>