Products
Emergency Management System
Emergency Communication System

Emergency Applications
Fire Warning and Alert
Health Warning / Alert
Crime Warning Alerts
Chemical / Biological
Earthquakes and Earthquake Warnings

Emergency Response Systems
Predicting Floods
Emergency Phone Tree
EAS - Emergency Alert System School Alerts


<! ****************** Main Text of Webpage ***********************************>


Emergency Communications Systems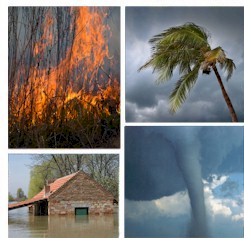 This section of our technical library presents articles written about Emergency Alert Systems and Disaster Recovery definitions, terms and related information.

The 911Broadcast emergency notification and alert service can deliver a large number of phone calls using a network of phone systems employing digital phone lines simultaneously. Should a disaster such as a snow storm, wild fire or flood hit your area, 911Broadcast systems can alert your community quickly providing specific instructions if an evacuation is required.

This service is available using our emergency broadcasting systems. If a dangerous chemical spill occurs in your community, you can target specific areas to call. If a severe snow storm hits your area, your community can be notified of school closings or event cancellations.



<! *************************** Start Of Article *****************************>
MSRC supplements emergency response best practices with 20 new items
The Media Security and Reliability Council (MSRC)yesterday adopted 18 national and two local best practices related to response and recovery from natural and man-made disasters to add to the 63 best practices it approved in December.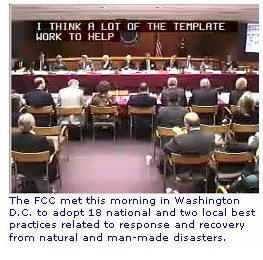 The new proposals grew out of an event in Tampa, Fla., sponsored by the councilís Public Communications and Safety Working Group where many of the previously adopted best practices were taken for a ďtest drive,Ē in the words of committee chair John Eck, president of Network Operations for NBC.

At the event, the working group and the MSRCís Communications Infrastructure Security, Access and Restoration Committee met with local broadcasters, the Florida Association of Broadcasters, the local cable association and others to assess the best practices.

Additionally, the mediaís response to the blackout in New York City and Hurricane Andrew provided insight used to develop the new best practices.

Among the new best practices are:
the establishment of local government emergency operations centers with basic audio and video equipment that can be interfaced with local media;


regular meetings between the technical staffs of local government emergency responders and the media;


establishing a public education program with a focus on preparedness, response and recovery;


the judicious use of the emergency communications system to avoid from dulling the publicís perception of the importance of emergency messages;


additional Emergency Alert System entry points from the FM subcarrier;


steps to assure the physical security of the broadcast studio and transmitter facility, including back-up power, redundant communications into and out of the station and redundant facilities where practical;


steps to assure that disruptions to the supply chain from a disaster wonít deny stations what they need to stay on the air in times of local or national emergency.
The MSRC meeting was the fifth and final gathering of this group of members under the councilís two-year charter. In his closing statements, FCC Chairman Michael Powell thanked council members for their work and warned the media that they may likely be the target of future terror attacks.

Powell also announced that David Barrett, president and CEO of Hearst-Argyle Television, will be the incoming chairman of the new Media Security and Reliability Council.

For more information visit www.fcc.gov. <! ************ End Of Article ***************>


---
Activating Your Emergency Broadcasts
DSC systems allow you to initiate an emergency broadcast using several methods. Because emergencies can arise at any hour of the day or night, we have provided these multiple techniques so that you are not required to staff a center 24 by
Emergency Control Center - DSC provides an Emergency Control Center PC interface to our phone systems that manages one emergency phone dialer or an entire network of dialers. Our emergency control program runs either on your local dialer or on the network where your dialer resides. This program lets you download phone lists and emergency phone messages and initiate the emergeny broadcast. This program likewise lets you configure your network or emergency dialers and produces reports on the performance of your system or network.


Web Based Control Center - Our web based emergency notification system lets you access a web page for managing and activating emergency broadcasts. After entering a secure user id and password, you can download phone lists and recorded emergency messages. Using a menu selection, you can select any phone list/message combination to be broadcast online and initiate the emergency alert.

Phone Activated Emergency Dialing - If you are not able to access the internet and use our web based emergency dialing interface, we allow you to initiate an emergency phone campaign using a simple touchphone into our phone system. After properly validating your account id and password, the phone system lets you select a pre-recorded messsage (or record one while you are on the phone). It then prompts you to identify the list of phone numbers to be called (previously maintained under your account). Finally this phone program will let you listen to the message to be sent and inform you of the size of the list of numbers to be called as a final check. If everything is ok, then pressing a touchphone key activates the calling program.


Computer Activated Dialing - Our emergency notification network also supports computer and web connectivity using XML technology. Thus, emergency communication can be initiated from your website or computer by automatically sending our emergency phone system a message containing a list of one or more phone numbers and a message to be sent to these individuals. The message can be text (which is automatically converted to voice) or a voice file. For further information, visit our Emergency XML messaging web page.
---


<! ****************************END of Text************************************>