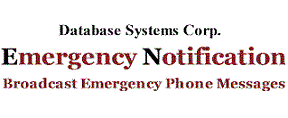 Emergency Broadcast Solutions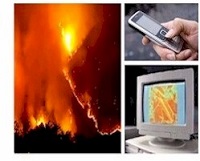 Database Systems Corp. provides emergency notification services using voice broadcasting and IVR technology that can simultaneously dial hundreds to thousands of numbers to alert your community with prerecorded warning phone messages.

Our service differs significantly from other community alert systems. We provide either systems and services plus we can provide both to your community if you require an overflow or backup service. Thousands of residents in your community can be called in just minutes compared to days using manual calling methods. This process can take hours even with a typical 48 line automatic phone dialer.

Our 911 emergency alert service can deliver recorded messages to both "live" individuals and answering machines. Emergency messages can also be delivered to special TTY / TDD phones for the deaf and hearing impaired. Our systems have the ability to re-dial a phone number multiple times whenever there is a busy signal or a no answering condition. A "press through" feature lets the call recipient confirm the receipt of the call, leave a voice mail message, or even transfer to a member of your emergency team.

Contact DSC to learn more about our community alert services and systems.
Register Online For Emergency Alert Services
DSC now provides an online signup for both non-profit and business organizations wishing to use our emergency voice broadcasting outsourcing services. Signup is easy and free! Our competitive rates are affordable, even for the smallest calling campaign.

Use this form to obtain a quotation and pricing information with no obligation until you are ready to start calling and provide us with your payment information.

Both emergency and non-emergency voice broadcasting services can be provided by DSC.

To register online, click on the the online registration image or button on the right.
Managing Emergency Calls From Your Smartphone
DSC now lets you manage your emergency notification calling campaigns using your Droid and iPhone smartphones. The following easy to use functions are available to smartphone users.
Login to your account
Select a list of phone numbers to call
Select saved recordings to broadcast
Record messages by calling our service
Start and Stop a voice broadcast
Monitor the voice broadcast in progress
This smartphone application lets you manage any number of emergency broadcasts using simple phone commands. Contact DSC to learn more about this simple way to control your emergency broadcasting and to obtain a copy of this smartphone application.
What Is An Emergency Dialer?
The Database Systems Corp. phone system is ideally suited for community alert dialing because it is capable of dialing numbers from a computer managed phone list. Our phone system automatically dials a phone number and plays a recorded message when it detects a person answers the call or when an answering machine message is detected. Our phone dialer can even transfer the call to a disaster response team if the call recipient needs help or further assistance.

There are several types of emergency phone dialing including our automatic message dialer that simply broadcasts phone messages. But our emergency notification dialer does much more including transferring calls to local and remote response team members. For a complete description of this emergency broadcast system, view our Community Alert web page.
Activating Community Broadcasts
When an disaster occurs in your community, our community notification system can be activated in many ways. We provide an internet login, with the online ability to maintain your broadcast messages and call lists. Our purchased systems come with an administrative program to manage your phone blasts. Calls can also be initiated by phone using touchtone responses. Finally, automatic phone messages can be initiated and delivered from your own computer or website using our XML technology.


---
Online Emergency Management

Our 911 emergency broadcast service is easy to use and we provide several methods to activate a mass communications broadcast. We help you organize community call lists and organize them in a fashion that best fits your message broadcasting requirements. When a disaster arises, you simply record your phone message offline or use our toll free phone service to record your message.

Next identify your call recipients using a simple list manager or a graphical map display and send us your phone numbers via the internet.
Phone Activated Mass Communication Messages

You can also identify pre-defined lists to call using simple touchphone responses on our toll free service. We do the rest. If you need to embed our emergency broadcasting within your existing PC or web applications, we provide a complete program interface to accomplish this.

Unlike some systems that are limited by the number of lines available to perform this emergency dialing, our service is provided to you using a network of phone dialers that can deliver your emergency messages much faster. Our emergency notification system delivers messages to individuals or answering machines and can even allow the call recipient to make touchphone selections. This may be critical if your disaster recovery center requires a positive acknowledgement from the call recipients such as first responders or your disaster response team.
Computer Activated Phone Messaging

Our community notification network also supports computer and web connectivity using XML technology. Thus, community alerts can be initiated from your website or computer by automatically sending our call center phone system a message containing a list of one or more phone numbers and a message to be sent to these individuals. The message can be text (which is automatically converted to voice) or a voice file. For further information, visit our Emergency XML messaging web page.


---
Service Or System?
Every community should carefully consider this important question. Purchasing your own emergency notification system gives your community more control, but requires a considerable amount of phone resources, telecommunications equipment and technical competence to keep your system operational. The larger your community, the greater capital expense is required to broadcast your phone messages in a timely fashion.

If your organization can utilize this system for non-emergency voice broadcasting, it is easier to financially justify the purchase of a system over contracting with an outside service. After all, emergency broadcasting is something you hope you never need to use.

Contracting your automatic message notification service requires less up front capital and can provide a faster community broadcast if your provider has sufficient resources available. Other than a monthly subscription fee, you only pay for the emergency broadcast as it occurs. System redundancy is available as well as centralized and experienced technical assistance.
Inbound Emergency Response Center
The PACER phone system is far more than just an emergency response dialer and outbound phone system. The PACER 911 emergency phone dialers have complete inbound call distribution capability including an ACD system and an optional IVR system. Callers can be prompted to enter the type of service required, etc. and the PACER autodialer will provide the requested information or transfer the caller to the appropriate emergency response team member. The PACER emergency phone dialers can blend these tasks together including our inbound IVR service, making your emergency center a more complete and powerful response center. Reports from our phone dialers can be obtained quickly and easily, giving you an accurate and timely view of your center's operation. Plus all or selected inbound and outbound calls can be recorded for quality assurance and legal purposes.

Call Us to learn more about our 911 emergency notification services and alert systems.